Filippo Mineccia /IT/
The Florentine-born countertenor Filippo Mineccia has won international acclaim and is considered by many to be one of the greatest specialists in the repertoire of the famous castrato era.
As a child he studied singing at the Fiesole School of Music and became a member of its polyphonic choir. After studying voice and cello at the Luigi Cherubini Conservatory of Music in Florence, he studied with Gianni Fabbrini and Donatella Debolini.
Filippo Mineccia has distinguished himself by winning prizes in national and international singing competitions.
He has worked with ensembles such as Accademia Bizantina, Les Talens Lyriques, I Barocchisti, Il Complesso Barocco, La Cappella della Pietà de' Turchini, Opera Fuoco, La Barocca, Ensemble Inégal, Collegium 1704, Collegium Marianum, Capella Cracoviensis, Divino Sospiro, Balthasar Neumann Ensemble, Auser Musici, Cappella Mediterranea.
___________

Gabriela Eibenová /CZ/
Soprano Gabriela Eibenová is regarded as a renowned singer in the field of early music interpretation on the Czech music scene. She graduated from the Prague Conservatory, theory and performance practice of early music at Masaryk University and historical performance at JAMU. Together with organist and conductor Adam Viktora, she founded the vocal-instrumental group Ensemble Inégal, which focuses primarily on promoting the work of the Czech Baroque composer Jan Dismas Zelenka. She performs extensively with this ensemble at major international music festivals (Prague Spring, Oude Muziek Utrecht, Tage Alter Musik Regensburg, Musica Antiqua Brugge, Bach Festival Riga, International Music Festival Santander, Lufthansa Music Festival London, Stockholm Early Music Festival, and others). She has sung almost all over Europe, in Israel, Lebanon and Japan. She has recorded more than 40 CDs. She is a vocal teacher at master classes specialising in early music performance. In 2020 she established the Rosa Bohemica music festival, which uses music to enliven and resonate spaces with a strong genius loci.
___________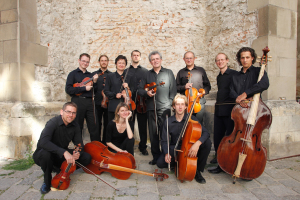 Musica Aeterna /SK/
The early music ensemble Musica Aeterna was founded in 1973 at the initiative of professor Ján Albrecht. It was the first ensemble to systematically introduce future professional musicians to the music of the Gothic, Renaissance and Baroque periods. The study of compositions of the mentioned periods eventually led to the formation of a special early music ensemble, which in 1989 definitely refocused on playing period instruments from the 17th and 18th centuries, or rather their copies. European music and music of Central European or Slovak provenance of the 17th and 18th centuries is the centre of the repertoire of the ensemble, which was incorporated into the Slovak Philharmonic Orchestra between 1986 and 2005. The artistic director is Peter Zajíček.
___________

Dresdner Kammerchor /DE/
The Dresdner Kammerchor is one of the leading choirs in Germany. Since its foundation in 1985 by Hans-Christoph Rademann, it has become firmly established on the German and European musical scenes. With initiatives such as the first complete recording of Heinrich Schütz and a continuing interest in researching and promoting the musical legacy of central Germany, the choir helps shape the cultural identity of this region, working internationally as an ambassador for Dresden and Saxony. In collaboration with the Dresdner Barockorchester and other musical partners, numerous works by Heinrich Schütz, Johann Adolf Hasse, Johann David Heinichen and Jan Dismas Zelenka have been rediscovered. The choir has been honoured with numerous prizes including the German Record Critics' Award.
Alongside the oratories and sacred works of Baroque masters such as Bach, Telemann and Händel, the choral-symphonic repertoire of the Classical and Romantic periods from Mozart via Mendelssohn to Brahms forms another main focus of the choir's work. The Dresdner Kammerchor is also renowned for the performance of challenging a cappella literature from the 19th and 20th centuries by composers such as Max Reger, Alfred Schnittke, Ernst Krenek, Olivier Messiaen and Herman Berlinski.
The choir specializes in modern and contemporary music. This is reflected in numerous premieres, first performances, and new works commissioned by the choir. In 2009 Hans-Christoph Rademann and the Dresdner Kammerchor initiated the Dresden Chorwerkstatt fur Neue Musik. The choir was awarded the Ernst von Siemens Music Prize for its services to contemporary music.
The Dresdner Kammerchor has received broad acclaim on its numerous concert trips in and outside Europe, i.e. USA, South Africa, India and China. The choir also receives regular invitations to international music festivals of great reputation like the Rheingau Musik Festival, Oude-Muziek-Festival Utrecht, Festivales Musicales Buenos Aires, Bachwoche Ansbach and Händelfestspiele Halle and Göttingen.
Frequent co-operations with renowned orchestras and conductors from Germany and abroad underscore the reputation of the choir. Among the most famous are the conductors René Jacobs, Sir Roger Norrington, Ádám Fischer, Riccardo Chailly, Herbert Blomstedt and the ensembles Sächsische Staatskapelle Dresden, Gewandhausorchester Leipzig, The Orchestra of the Age of Enlightenment, Concerto Köln and Akademie für Alte Musik Berlin.
___________

Ensemble Inégal /CZ/
Ensemble Inégal and its conductor Adam Viktora earned international acclaim thanks to its highly praised concerts and awarded CD-recordings, thus becoming synonymous with the rediscovery of the legacy of the ingenious Czech baroque composer Jan Dismas Zelenka.
The interpretative range of the highly versatile Ensemble Inégal spans from renaissance to contemporary music. In addition to early music, the ensemble has on its account innovatory performances and recordings of romantic (Dvořák, Rossini) and contemporary music (Britten, Pärt, Schnittke, Glass). Ensemble Inégal has performed at prestigious European festivals such as the Prague Spring Festival, Musica Antiqua Brugge, Oude Muziek Utrecht, Lufthansa Festival London, De Bijloke Gent, Stockholm Early Music Festival, Bachfest Leipzig, and many others. Ensemble Inégal has recorded 20 successful CDs earning a range of prestigious international awards (Diapason d'Or, IRR Outstanding, Goldberg 5 stars, a.o.). The ensemble is regularly featured in broadcasts of television and radio stations (BBC, EBU, Czech Television, Czech Radio, Deutschlandradio Kultur a.o.).
___________

Adam Viktora /CZ/
Organist and conductor Adam Viktora performs at music festivals throughout Europe, lectures and performs at international organ congresses, serves as an advisor on expert committees for the restoration of important historic organs, and records for European radio and television stations. He takes a great interest in historic organs and in activities aimed at their preservation and promotion. He is the founder and artistic director of the Czech Organ Festival. He teaches organ at the Conservatory in Pilsen and historically informed performance at the Academy of Performing Arts in Prague. He is the artistic director of the Ensemble Inégal and the Prague Baroque Soloists, with whom he has recorded over 20 award-winning CDs and given countless concerts at major European festivals such as Prague Spring, Oude Muziek Utrecht, Musica Antiqua Brugge, Lufthansa Festival London, Bachtage Leipzig, Tage alter Musik Regensburg, Stockholm Early Music Festival and others. Adam Viktora has also become a prominent figure in the process of rediscovering the work of the Czech Baroque genius, Jan Dismas Zelenka. He founded and organizes the Zelenka Festival Prague – Dresden and hosts the annual musicological colloquium Zelenka Conference Prague. Together with Ensemble Inégal he has won the prestigious French Diapason d'Or award four times.
___________
 
Cinquecento /AU, BE, UK, DE, CH/
Cinquecento, an ensemble of five professional singers from Austria, Belgium, England, Germany and Switzerland, was founded in 2004 in Vienna and quickly established itself as one of the most important vocal ensembles in Europe. It aims to bring to light the lesser-known repertoire of the sixteenth-century courts of Imperial Austria, as well as to showcase the varied and kaleidoscopic diversity of compositional styles of European Renaissance polyphony. Thanks to the interest of modern composers, the ensemble has also included many contemporary works in its repertoire.
In addition to performing numerous concerts in Austria, the ensemble has also appeared in Belgium, Holland, Poland, Great Britain, Switzerland, France, Portugal, Hungary, Italy, Slovakia, Slovenia, Germany, the Czech Republic, the USA, Canada and South Korea. In the summer of 2021, Cinquecento made its successful debut at the Salzburg Festival. In addition to the many awards the ensemble has received for its recordings, such as "Diaposon d'Or de l'année" for the recording of Heinrich Isaac works, in 2009, Cinquecento received the "Deutschlandfunk-Förderpreis" for its outstanding success at the Musikfest Bremen. Since 2006 Cinquecento has been recording for Hyperion, focusing on Habsburg court composers of the sixteenth century. The latest release contains Jacob Regnart's Missa "Christ ist erstanden" (2021).