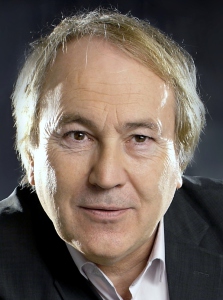 The main characteristic of Frieder Bernius' career has been his perpetual search for new scores, the practice of questioning traditional interpretations of European music and the fact of creating an unmistakable individual sound.
Thirty of his more than 90 CD recordings have received international record awards such as: 'Choc du Monde de la musique' and the  'Edison Klassiek' for his Schuetz and Bach recordings, the 'Diapason d'Or de l'année' for Mozart's Requiem and many 'Quarterly Awards of the German Record Critics' for a-cappella recordings. Serving as cultural ambassador for the Cultural Relations of Baden-Wuerttemberg, Bernius is constantly in touch with ensembles in Toronto, Warsaw and Budapest. Six times has conducted the World Youth Choir.
Bernius has received major awards such as the 'Order of Merit of the Federal Republic of Germany', the 'Medal of Merit of the State of Baden-Wuerttemberg' and most recently the 'Bach Award' from the City of Leipzig.
During his studies Frieder Bernius founded Kammerchor Stuttgart and he has achieved herewith an international reputation for its individual sonority and the style of singing, especially with romantic choir music. The Kammerchor Stuttgart counts as one of the leading ensembles of its kind.