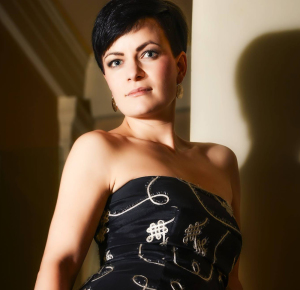 Lenka Cafourkova Duricová (born in 1986) comes from Unicov, the Czech Republic. After graduating singing at the School of Arts in Unicov, she was accepted to the Brno Conservatory in 2002 to the class of MgA. Petr Julicek to study singing. During her studies she played the main part in the opera La Canterina by J. Haydn and Bellinda part in the opera Dido and Aeneas by Henry Purcell. In 2002 and 2003 she took part in the Bohuslav Martinu's Song Competition in Prague, where she won the 3rd and 1st prize and the award for the Best Song Artist of Bohuslav Martinu.
In the years 2008 – 2013 she studied at the Janacek Academy of Performing Arts in the class of Prof. Natalia Romanova – Achaladze. She finished her studies with graduate parts of Cinderella in the Comedy on the Bridge by Bohuslav Martinu, main character – Suor Angelica in Puccini's opera of the same name and she graduated her Master's degree with the main part of Marenka in the comedy opera The Bartered Bride by Bedrich Smetana.
She also participated in master courses of Peter Dvorsky, Regina Renzowa and Gabriela Benackova in 2010 and 2011. In 2010, she performed at a concert of young talents in Vienna ("Morgenstern").
She acted externally at the National Theatre in Brno for two years (Pamina – Papageno Plays the Magic Flute, Destiny – L. Janacek) and in 2013 she made her debut as Marenka in Smetana's The Bartered Bride at the Moravian Theatre in Olomouc, where she later played the part of Vendulka in the Smetana's opera The Kiss in February 2015. In October 2015, she is going to play the part of Nina Valencia/Indolenda in the opera The Three Wishes by Bohuslav Martinů.
In 2014, she appeared as La Folie in the Opera Plataea by J. Ph. Rameau at the Znojmo Music Festival (Czech premiere, filmed by the Czech Television) and she was also nominated for this part to the wider selection of the Thalia awards.Within the Znojmo Music Festival 2016 presented as Zerlina in Mozart's opera Don Giovanni.
Since 2013, she has cooperated with the Czech Ensemble Baroque.
Lenka Cafourkova Duricova is devoted to opera repertoire as well as to light opera/operetta, songs or solo concert recitals.