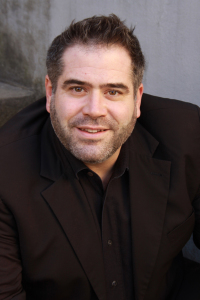 The Austrian tenor, Virgil Hartinger, grew up in a very musical household, where he was introduced to the classical vocal repertoire at an early age. Virgil holds degrees from the Eastman School of Music in Rochester, New York, and the Mozarteum in Salzburg. He also did post graduate work at the Oberlin College in Ohio with Richard Miller. Many summers of participation in the Marlboro Music Festival in Vermont also honed his skills as a lieder-singer and chamber musician.
Virgil Hartinger is a sought after soloist who's career encompasses a wide variety of repertoire. Critics have hailed his natural and expressive musicality as well as his warm and ringing timbre. His career unfolded quickly in the oratorio field: His roles span from the Evangelist's parts in J. S. Bach's Passions over many of George Frideric Handel's oratorios to L. van Beethoven's Christus am Ölberge, Felix Mendelssohn's St. Paul and Puccini's Messa di Gloria.
Virgil Hartinger has collaborated with conductors such as Jamie Laredo, Helmut Müller-Brühl, Helmuth Froschauer, Roderich Kreile. Konrad Junghänel, Peter Neumann, Paul O'Dette, Michi Gaigg, Reinhard Goebel, Christophe Coin, Roy Goodman, Ton Koopman, Sigiswald Kuijken, Riccardo Chailly, Nicholas McGegan, Ivor Bolton and Thomas Hengelbrock.
His operatic credits include Belmonte in W. A. Mozart's Die Entführung aus dem Serail, Mengone in Haydn's Lo Speziale, multiple roles in Benjamin Britten's Midsummer Night's Dream and Rossi's Il Palazzo Incantato and Pinkerton in Madama Butterfly. His European operatic debut was 2008 at the Deutsche Oper am Rhein in Düsseldorf, where he portrayed the lead Tenor role of Cirene in J. H. Wilderer's Giocasta with critical acclaim. His latest opera role was Pylades in Gluck's Ipigénie en Tauride.
Many prestigious Festivals and Concert Halls are regular stations in his schedule: the Salzburg Festival, Carinthian Summer, the Händel Festival in Göttingen, the Beethovenfest in Bonn, the Konzerthaus Berlin, Dortmund and Vienna, the Folle Journée in Nantes and Lissabon, the Flanders Festival in Gent, the Philharmonie in Cologne and Essen, the Tonhalle Düsseldorf, the Theâtre des Champs Élysées, the Festivall Hall in Baden-Baden, Tonhalle Zürich, Barbican Centre London, Gewandhaus in Leipzig, and Carnegie Hall.
A recording of G. F. Handel's Alexander's Feast and Ode for Saint Cecilia's Day under the baton of Peter Neumann as well as a recording of the newly discovered Johann Adam Hiller version of the Messiah under Nicholas McGegan featuring Virgil Hartinger have recently been released on the Carus label and on NDR classic.
Forthcoming projects include a CD recording and production of W.A. Mozart's La Finta Giardiniera with Michi Gaigg and L'Orfeo Barockorchester, and a recital with An die ferne Geliebte and Peter Takács in Carnegie Hall.